Marketing Minute Monthly Newsletter
Welcome to the AMA Austin Chapter's monthly email newsletter. Each newsletter will tell you about upcoming events, how to get involved, and recent marketing articles.

Dear AMA Austin Members,

Happy Member Month! Yes, you guessed it right—this August, we are celebrating all of our active AMA Austin Members. It's amazing to think that we have around 12,000 professional members nationwide, with a strong representation from academia. While Austin AMA ranks as a medium-sized chapter, there's no need to worry, as we have grand plans this year to unite all marketing professionals and communities in Austin for collaboration, learning, networking, and expanding our membership base.

Our next event marks the beginning of our membership collaboration drive, as we're excited to host our members at the Summer Boat Party on Thursday, August 15th. We'll have the opportunity to witness the famous bats beneath the iconic Ann Richards Bridge while enjoying sunset drinks and snacks. Spaces are filling up quickly, so make sure to secure your spot soon (August 2023 Power Hour | Austin AMA). And don't fret if you're not yet a member—you can join AMA here (AMA Membership) and gain access to a plethora of resources, toolkits, playbooks, AMA journals, training, conferences, and member-only webinars.

This month, I delved into the AMA Playbooks and discovered the existence of over 180 playbooks and toolkits (Toolkits Archive). These resources are completely free for members. That's incredible! The topics covered range from Market Research, Influencer Marketing, SEO, and the Decision-Maker Influencer Map, among others. There are just too many to list. This has become an amazing source of learning for my team and me, and we utilize it regularly. Even seasoned marketers can find tools suited for more advanced professionals, alongside toolkits that cover the basics for those interested in refreshing their knowledge or perhaps coaching a new team.

As we celebrate our members this month, it's only fitting to recognize our featured Board Member of the Month: our VP of Memberships, Amy Kenly. With over 20 years of experience in all facets of business-to-business marketing for professional services and technology firms, Amy is truly deserving of this honor. Her fervor for brand building through strategic storytelling shines through as she spearheads innovative and comprehensive marketing programs that drive revenue while establishing subject matter experts as eminent thought leaders. Furthermore, Amy plays a pivotal role in helping founders launch and scale new professional services firms as the VP of Marketing at Launch Box. Thank you, Amy, for your dedicated contributions to our Members!

I'm eagerly anticipating the opportunity to meet with our members on the 15th of August at our Summer Boat Party. See you all there.
Best Wishes,
Francois
---


SUMMER BOAT PARTY
Free event for all AMA Austin members!
Prepare to set sail on Town Lake aboard our exclusive party boat as we bring you a truly one-of-a-kind experience—the Bat-Watching Networking Event!
Sunset Bat-Watching Tour: Marvel at the breathtaking sight of Austin's famous bats as they embark on their nightly journey in search of dinner, just beneath the iconic Ann Richards Bridge.

Complimentary Beverages: Sip on refreshing beer and wine as you mingle with fellow AMA Austin members and enjoy the stunning views of the city's skyline.

Tasty snacks: Delight your taste buds with a delectable array of snacks that will keep you energized throughout the event.

Networking Opportunities: Connect with industry professionals, forge new relationships, and expand your network in a relaxed and picturesque setting.
Thursday, August 17th @ 6:30pm
Lone Star Riverboat | 208 Barton Springs Rd, ATX 78704
Schedule:
6:30pm - Begin boarding the Lone Star Riverboat
7pm - Begin tour of Lady Bird Lake with views of the departing bat at sundown (est. 8:30pm)
9pm - Dock and depart
This is a free event for active AMA Austin members. Make sure to look for our exclusive members-only email in your inbox. Emails were sent last week and this past Monday.

Marketing Morning - August
Wednesday, August 16th @ 8am
Easy Tiger South - 3508 S Lamar Blvd, Austin, Texas 78704
Marketing Mornings are your chance to have a personal conversation about the hottest topics with your peers in the marketing industry. Make this your mid-week dose of energy, inspiration, and learning.
Ask questions (and we mean anything)
Discuss new trends with your peers and find out what's trending
Discover what new marketing opportunities are out there
Grow your network
Free breakfast treats for all Austin AMA members

Did you miss the July Power Hour?!
Recap of Christmas in July
AMA Austin recently hosted a cozy get-together, delving into Christmas-themed marketing campaigns. Let's unwrap the takeaways and infuse some holiday cheer.

Travis Summers, Director of Sales and Marketing at Pinballz, kicked off the discussion by stressing the value of early planning. Pinballz is focused on campaigns for corporate events and holiday parties. They're also prepping a direct-to-consumer drive for holiday gift cards.

Jake Hay, partner at Pop Shorts social media agency, shared insights on influencer campaigns. He warned against oversaturation, which can spike costs and reduce reach. Jake advised diversifying influencer strategies, including diverse influencers, community content, and collaborations with non-competing brands.

Michael Worthington, part-owner of Classic Promotions, joined as a client gifting expert. He suggested giving items clients want, while integrating branding. Michael's list included Yeti tumblers, Kenneth Cole messenger bags, and more - blending desire with branding.

Key Takeaways:
1. Early Planning Yields Rewards: Travis emphasized early campaign planning. This applies to both retail and B2B, setting the stage for a successful holiday season.

2. Break the Noise: Jake addressed the challenge of standing out in holiday marketing. Engaging content keeps costs manageable and organic reach high.

3. Diverse Approaches Shine: Jake urged diverse strategies to cut through. Leveraging influencers, collaborating with like-minded brands, and using social media amplify the impact.

---
---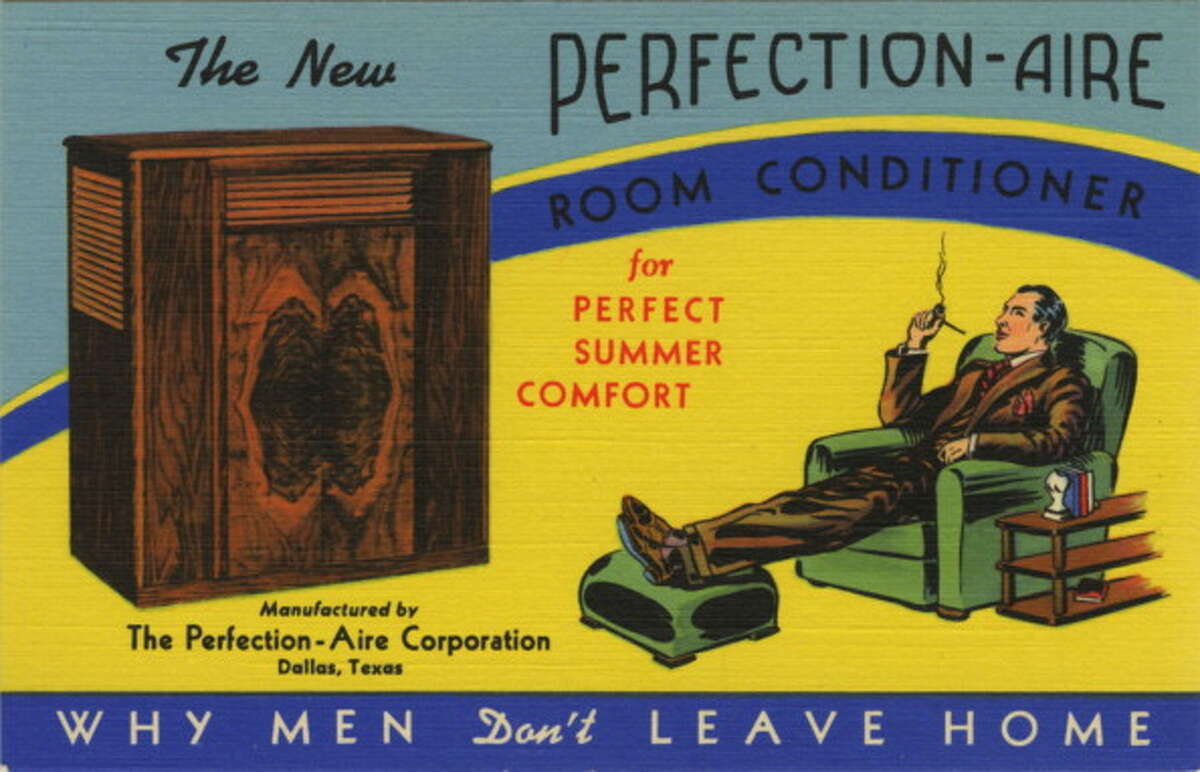 Considering the recent heatwave we've experienced lately, this vintage ad from The Perfection-Aire Corporation in 1938 seemed appropriate. This weather is definitely why I don't leave home.
Follow us on Social!
Stay up-to-date on all things AMA Austin by giving us a follow on LinkedIn or Instagram!