Marketing Minute Monthly Newsletter
Welcome to the AMA Austin Chapter's monthly email newsletter. Each newsletter will tell you about upcoming events, how to get involved, and recent marketing articles.

Dear AMA Austin Members
Happy New Year!
I know this sounds a bit strange, but the AMA Chapter year runs from July to August every year, and we have been hard at work in preparing for the new year to bring you, our Austin marketing community, exciting events and programming, awesome networking opportunities, newsletter and posts to keep you up to date with the ever changing marketing landscape.
I am also delighted to tell you that we now have 16 board volunteers, with only a few more positions available to fill. We most certainly are starting 2023 – 2024 AMA Year on a strong footing. If you are interested in a volunteer position, where you can take on a project, gain some valuable experience, boost your resume, build your network and play a significant role at AMA Austin, be sure to let us know at Contact | Austin AMA.
We're also very excited to announce that we have fully migrated onto HubSpot and ready to go with our first campaigns. We have to give a huge shout out to Jennifer Miller (AMA Austin Meet the Team (strategically-connected.com)), without whom we would never have been up and ready for our new chapter year.
We would also like to introduce our new sponsors for the year so far. Like our volunteers, the AMA Austin Chapter cannot function without the generous support, funding and unwavering assistance from our sponsors. Welcome to:
Check them out, they're doing a ton of great stuff and we are grateful for all their support. The Austin Chapter constantly needs sponsorship support and funding, and we have several sponsorship and partner opportunities available. If your company is interested in getting profiled by the American Marketing Association, gain valuable publicity and awareness and be promoted through all our communication channels and events, let us know here Contact | Austin AMA.
Lastly, our featured Board Member of the Month is our very own VP of Volunteering, Meghan Williams (44) Meghan Williams | LinkedIn. Meghan has been volunteering with Austin AMA since early 2020 and has been a valuable member of the team supporting and working with all our volunteers. She is excited to help members to join the dynamic volunteer team, as well as engage with members to find volunteering roles that match their skills. Outside of AMA, Meghan works on the web marketing team at Trustwave (a cybersecurity firm). Prior to that, Meghan worked at another cybersecurity company where she managed 10 translated websites and took charge of the entire translation process of all digital content. Meghan has done an incredible job in building out our succession planning and our volunteer team, without which we're not a working chapter. Thank you Meghan!
We're already on a roll with our first event taking place on 20 July at 5:30pm at Original Pinballz Arcade (July 2023 Power Hour | Austin AMA). See you there.
Best Wishes,
Francois
---


Christmas in July
Marketing Strategies for the Holiday Season
It might sound a little silly to be getting into the holiday spirit, but for several marketers, now is the time to start planning an upcoming Black Friday promotion or picking out the perfect branded client gift.
Join us for our July Power Hour event where we will be talking about best marketing practices as we prepare for the holiday season.
What will you learn?
What are the best campaigns to run during the holiday season?

What are some innovative and engaging client gifts that will help my brand stand out with our customers?

How do I convert with my upcoming Black Friday sale?
By attending, you'll be entered to win a VIP raffle prize. AND you can increase your chances of winning by attending LIVE and wearing a festive sweater.
Thursday, July 20th @ 5:30pm
Original Pinballz Arcade | 183 & Burnet
Schedule:
5:30pm Discussion Begins
6:15pm Networking at the AMA-Neighborhood Bar (virtual)
$10 for Members (includes 2 drink tickets)
$30 for non-Members
---
Volunteering with the AMA Austin Chapter is a rewarding and valuable experience for marketing professionals who want to give back, network, and get the most of the membership! By volunteering you can gain valuable experience working on marketing initiatives, learn new skills, and build your network in the local industry.
Volunteer call: Director of Volunteer Engagement
We're actively seeking someone to support our volunteer engagement initiatives. This person would contribute to tasks such as organizing our volunteer database, onboarding/offboarding, working with membership to engage with members about volunteering, and volunteer appreciation and recognition efforts, just to name a few. We're looking for someone interested in building relationships with other members of the chapter and helping to ensure each volunteer feels engaged, supported, and appreciated. We couldn't run the chapter without volunteers!
If you're interested in joining our team and want to learn more about volunteering, please reach out to meghan@austinama.org.
---

We are thrilled to announce a new partnership with local digital marketing agency, evisio. Simply put, evisio makes it easy to do more SEO with less, so you can save time, make more money, and get better SEO results.
evisio takes the guesswork – and the grunt work – out of SEO by telling you exactly what to do to improve your rankings and then breaking those recommendations into tasks that you can manage and assign to your team right inside of evisio. By bringing all parts of the SEO process together in one powerful tool, evisio simplifies and streamlines SEO, helping you climb higher in your rankings and scale your SEO business.
For more information, visit evisio.co
---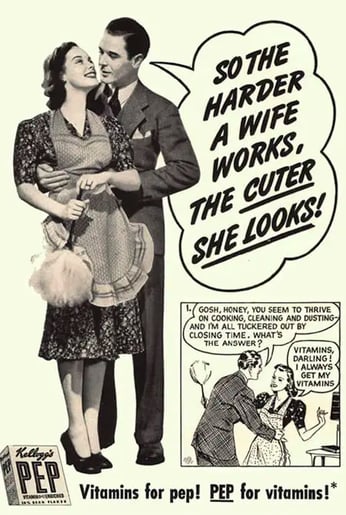 Not sure what's worse about this ad: the sexism or the marketing of meth as a vitamin.
Yeah, it's probably the misogyny.
Follow us on Social!
Stay up-to-date on all things AMA Austin by giving us a follow on LinkedIn or Instagram!