Marketing Minute Monthly Newsletter
Welcome to the AMA Austin Chapter's monthly email newsletter. Each newsletter will tell you about upcoming events, how to get involved, and recent marketing articles.

Dear AMA Members,
May was a busy month for the AMA Austin Team. We attended the AMA National Leadership Summit in Chicago, held three events, and transitioned to a new CRM.
The American Marketing Association organizes a National Leadership Summit in Chicago annually. This event provides an opportunity for local chapters to connect, learn from one another, and draw inspiration from remarkable leadership stories. This year's Leadership Summit was truly fulfilling, leaving us with new ideas and rekindled enthusiasm to elevate our Austin Chapter to greater heights.
While June will be a quiet month in terms of events (our events will resume at the beginning of the new AMA year in July), it will be a busy time for the Austin Chapter Board as we strategize for the upcoming AMA year. We are excited about several new initiatives, including the Mentorship program, as well as improving upon the accomplishments of the previous year. We view the 2022-2023 Chapter year as a foundation-building period, focusing on restoring regular in-person event attendance, expanding our board and volunteer base, succession planning, enhancing relevant and consistent communication, ensuring accountability for results, and optimizing our IT infrastructure. These efforts will enable us to take significant strides in the coming year, and we eagerly anticipate starting and delivering them to our members.
One initiative that has already been completed is the migration of our CRM to HubSpot. Jennifer Miller, the founder of Strategically Connected, has been instrumental in leading this migration and has dedicated considerable effort behind the scenes to make it happen. It's no surprise that Jennifer won the Turn-It-Up AMA Award of the Year in 2021 on behalf of the Austin chapter. We are extremely grateful to Jennifer and eagerly look forward to our continued partnership with her and Strategically Connected as we plan exciting campaigns for the upcoming year!
Lastly, our featured Board Member Volunteer this month is Marissa Mendez, our exceptional Events and Programming Vice President. Marissa, who is also the Director of Field Marketing at Unravel Data and holds a Bachelor of Science in International Marketing, has made remarkable contributions to the AMA. Since joining our Austin chapter from AMA Sacramento, Marissa has taken the lead as VP of Events Programming and has successfully revitalized our in-person events throughout Austin. Her strategy of focusing on engaging, thought-provoking, and relevant topics and content has resulted in stable attendance at our events, both from members and non-members. We have received excellent feedback from our attendees, highlighting how they not only gain new knowledge but also establish valuable connections. It's no wonder that Marissa was nominated for the 2023 Ric Sweeney Volunteer of the Year Award at the National American Marketing Association Leadership Summit. Congratulations, Marissa! We are truly grateful to have you as part of our team and greatly appreciate your exceptional work ethic and professionalism.
We will resume our events in July. I am excited to provide you with feedback after our strategy session and look forward to seeing you at our next event in July!
Best Wishes,
Francois
---

HOW TO ACE ONE VERY IMPORTANT INTERVIEW QUESTION
One common question that hiring managers often ask potential hires is, "What do you do to stay current and up-to-date with modern marketing practices?"
By becoming a member of AMA Austin, you can ensure that your answer will stand out among other candidates. By emphasizing your membership in AMA Austin, you will have the credibility to discuss the professional development events, training and certifications, and the library of learning resources offered by the national organization, as well as our local chapter. If you are in a marketing or sales role, you can highlight AMA Austin's networking opportunities as the perfect way to connect with Central Texas' best marketing professionals.
Employers want to hire AMA members because it adds value to their organization. They recognize that they are bringing on someone who is dedicated to their craft, committed to staying current with emerging trends, and has a vast network of peers to consult for a second opinion.
If you are on a trajectory to become a CMO or are a CMO searching for career-oriented professionals to join your team, do yourself a favor and join AMA Austin today.
---

Austinites should be very familiar with the quirky advertising that local business Radiant Plumbing & Air Conditioning, whose television commercials include movie parodies like "The Toiletnator" and "Toilet Dune." While the marketing for Radiant is well-known to locals, the company recently received some national attention when they were featured on the March 5 episode of "Last Week Tonight with John Oliver" on HBO. Oliver went through some of Radiant's most eye-catching commercials, and then challenged the company to make a parody of a movie of his choosing with a $10,000 donation to Central Texas Food Bank as the reward for agreeing to the challenge.
Five days later, Radiant was on a Zoom call with John Oliver, who told the team he chose the 1999 movie "Magnolia" for them. Radiant agreed and produced a commercial called, "Magtoiletolia."
Link to Magtolietolia commercial
---
Volunteering with the AMA Austin Chapter is a rewarding and valuable experience for marketing professionals who want to give back, network, and get the most of the membership! By volunteering you can gain valuable experience working on marketing initiatives, learn new skills, and build your network in the local industry.
Volunteer call: Director of Strategic Partnerships
We're actively seeking someone to help our strategic partnerships committee contributing to our research, sponsor/partner outreach, and communication efforts. We're looking for someone interested in building relationships between our chapter and local businesses.
If you're interested in joining our team and want to learn more, please reach out to meghan@austinama.org.
---

Want to leverage AMA Austin's reach and credibility with Central Texas' leading marketing professionals?
See how your next campaign can be optimized by reaching out to our partnerships team.
Want to increase brand awareness?
Become an AMA Austin partner and get featured on all of our communication channels including our social media, website, and monthly newsletters.
Want to attract the top marketing talent in Central Texas?
AMA Austin operates a job board on our website. Featured positions will also be promoted on our social media and in newsletters.
Want to talk about your new product or service targeted at Marketing Professionals?
Become an event partner or signup to become a speaker at one of our upcoming themed education seminars (Power Hours).
Want to position your brand as a thought leader in the marketing space?
Guest author a blog post, become a panelist at one of our Power Hour events, or partner with our events team to program the perfect activation in front of Austin's top marketers.
The ways AMA Austin can help your organization is countless. Contact Emily Carper from our partnerships team to see how we can create a customized solution for your upcoming marketing needs.
---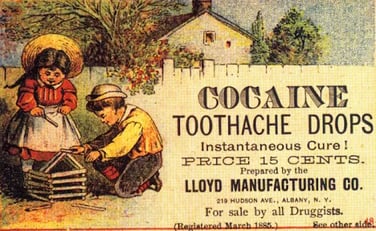 Cocaine Toothache Drops
In the 1880s, an article described a method of using cocaine to numb pain in dental procedures. According to the article, teeth could be drawn and nerves removed with little or no pain. Hearing of news like this may have perpetuated Lloyd Manufacturing Co to create cocaine toothache drops. In the early 1900s, however, cocaine's drawbacks started to make the rounds, and novocaine became the preferred local anesthetic, instead.
---
Follow us on Social!
Stay up-to-date on all things AMA Austin by giving us a follow on LinkedIn or Instagram!