Marketing Minute Monthly Newsletter
Welcome to the AMA Austin Chapter's monthly email newsletter. Each newsletter will tell you about upcoming events, how to get involved, and recent marketing articles.

Dear AMA Austin Community,

I hope this message finds you all in good health and high spirits. As we gather once again in the pages of our monthly newsletter, I wanted to take a moment to reflect on what makes our chapter truly exceptional.

AMA Austin is more than just an organization; it's a vibrant community of marketing professionals, enthusiasts, and innovators who are dedicated to fostering excellence in the field of marketing throughout Central Texas. What makes us truly unique is that we are entirely volunteer-led, driven by a team of professionals who dedicate their time and expertise without any financial compensation. We do what we do because we are passionate about the art and science of marketing, and we believe in the power of community.

Our mission at AMA Austin is simple yet powerful: to provide a platform where professionals can learn, connect, and grow. We're here to equip you with the knowledge, skills, and connections that will help you thrive in the dynamic world of marketing. But there's something even more extraordinary about our mission – it's fueled entirely by the goodwill and dedication of our volunteer team.

Our team members are marketers, just like you. They have full-time jobs, families, and busy lives, yet they choose to invest their precious time and energy in making AMA Austin a thriving community. They do it because they believe in the value of what we offer, and because they are passionate about seeing the marketing profession flourish in our region.

These volunteers organize events, share their expertise, mentor aspiring professionals, and work behind the scenes to ensure that our initiatives run smoothly. They receive no compensation for their efforts, except for the satisfaction of knowing they are contributing to the growth and advancement of our fellow marketing professionals.

We would not be able to do what we do if it weren't for our in-kind sponsors, who provide either free products or services, and in most instances their time, in support of our volunteers and for the benefit of our membership.

In our newsletter, you'll find a glimpse into the incredible initiatives and events that our volunteer team puts together each month. From informative webinars to networking opportunities, our goal is to provide you with a supportive and engaging environment where you can thrive both personally and professionally.

So, as you browse through the newsletter and mark your calendars for our upcoming events, I encourage you to take a moment to appreciate the hard work and dedication of our volunteer team. They are the heart and soul of AMA Austin, and it is their unwavering commitment that makes our community so special.

Thank you for being a part of AMA Austin, and for supporting our mission to advance marketing excellence throughout Central Texas. We are excited to continue this journey with you, our incredible community.

Wishing you a month filled with inspiration, learning, and meaningful connections.

Warm regards,
Francois Marais
President, AMA Austin
---


September Power Hour
How to Start or Advance Your Career in Marketing
September 21st | 5:30pm
Capital Factory | 701 Brazos St. Austin, Texas 78701
School has started and it's time for a lesson in career advancement. Join us for an hour-long discussion covering ways to ensure your marketing career continues to evolve and you find joy in your professional responsibilities.
Whether you're just out of school or a tenured marketing professional, this conversation will help you take advancement seriously.
What Will You Learn?
What should my marketing resume look like?

What kinds of metrics should I be monitoring for my personal growth?

What are the best ways to network?

How do I get my foot in the door at my dream organization?

September Marketing Mornings
Easy Tiger North
6406 N I-35 Frontage Rd, Austin, Texas 78752
Marketing Mornings are your chance to have a personal conversation about the hottest topics with your peers in the marketing industry. Make this your mid-week dose of energy, inspiration, and learning.
---
---

Are you a member of AMA Austin looking for more ways to get involved? Volunteering is a rewarding and valuable experience for those who want to give back and build relationships with other marketers. If you're interested in getting involved or want to learn more, please fill out this short form and we'll reach out to find a good fit for you!
Volunteering with the AMA Austin Chapter is a rewarding and valuable experience for marketing professionals who want to give back, network, and get the most of their membership! By volunteering you can gain valuable experience working on marketing initiatives, learn new skills, and build your network in the local industry. If you're interested in getting involved, please fill out this short form and we'll get back to you soon to find a good fit for you!

Volunteer call: Director of Volunteer Engagement
We're actively seeking someone to support our volunteer engagement initiatives. This person would contribute to tasks such as organizing our volunteer database, onboarding/offboarding, and volunteer appreciation and recognition efforts, just to name a few. We're looking for someone interested in building relationships with other members of the chapter and helping to ensure each volunteer feels engaged, supported, and appreciated. We couldn't run the chapter without volunteers!

If you want to learn more about volunteering or are interested in the role mentioned above, please reach out to meghan@austinama.org.
AMA Austin Volunteer of the Quarter
Cole Finney, Director of Event Programming
AMA Austin's success is fueled by passionate volunteers like Cole Finney! This Marketing Operations Specialist at American Innovations plays a pivotal role for AMA Austin events by helping to plan our events, liaising with Power Hour panelists, and overseeing our event budgets. Join us in recognizing Cole's incredible dedication and impact!
---

SPEAKER REQUEST!
We're looking for a few local and national thought leaders who might be interested in speaking at an upcoming AMA Austin event. We're looking for experts in the following:
CRISIS COMMUNICATION
Next month's POWER HOUR is Marketing Horror Stories (& How to Bounce Back). We're looking for PR and Corporate Communications professionals with an expertise in crisis communication to speak on the the proper way to respond when disaster strikes.
This is virtual event, so we are looking for speakers regardless of location.
FORECASTING
Our focus for November's POWER HOUR is looking ahead at 2024. If you're a marketing agency looking to highlight your company's projections and forecasting models for the upcoming year, then this is a great event to partner with AMA Austin to speak at.
CONTACT US ABOUT SPEAKING OPPORTUNITIES
---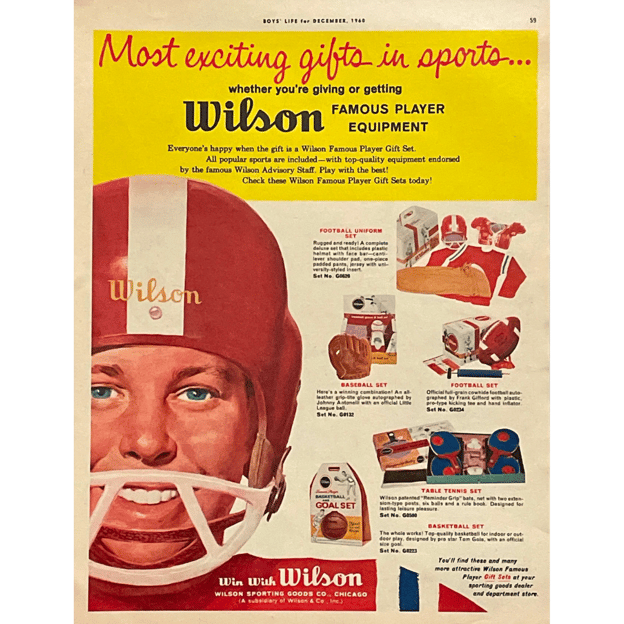 Wilson from 1960
Football Uniform Set - Rugged and ready! A complete deluxe set that includes plastic helmet with face bar - cantilever shoulder pad, one-piece padded pants, jersey with universally-styled insert.
---
Follow us on Social!
Stay up-to-date on all things AMA Austin by giving us a follow on LinkedIn or Instagram!